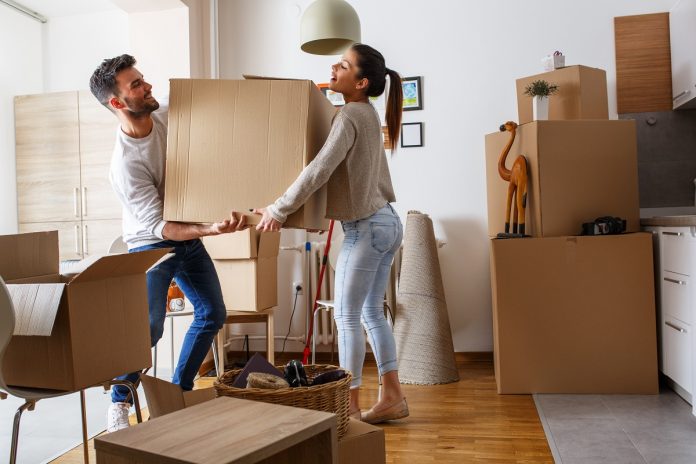 The end of March is the official date for moving in Switzerland: usually about 50,000 moves take place in spring. Once again this year, despite the Corona crisis, no restraining order was issued by the Swiss government. As long as "social distancing" and the hygiene regulations are observed, it is allowed to move. With Corona, we would prefer to simply terminate the lease on our end. However, it is clear that this virus will accompany us for quite some time. What is unclear, however, is to what extent and what intensity – in the next few weeks everything and nothing will be possible and we may find ourselves in the following situation again sooner than expected: May or should I move?
Whether you are facing a planned move or an emergency move: you are free to move. It is important to keep social distance and to observe the hygiene regulations. In concrete terms, this means that personal contact between the previous and subsequent tenants is avoided as far as possible when viewing and handing over the apartment. Many digital tools such as FaceTime, Skype or other video tools can be used for the inspection. For new buildings in particular, more and more property management companies are offering virtual tours on their homepage. For the apartment and key handover, the key can be disinfected and sent to the new tenants by registered mail. Any defects in the new flat or house can be recorded and sent to the administration afterwards. In the case of this non-personal hand-over of keys, we strongly recommend that you inspect and check the new apartment before the moving company moves your furniture. If the apartment is very dirty or otherwise damaged, you can inform the administration before you move.
The advantages of a professional moving company
When it comes to the actual moving and cleaning of the apartment, it is best to consult a professional moving and cleaning company. They are familiar with the latest federal regulations and measures and can guarantee a safe move that meets the hygiene standards. Friends, on the other hand, should not be asked for help and thus exposed to an increased health risk. As much as they would like to support and help us – solidarity is currently shown by keeping physical distance. The moving company takes care to keep the minimum distance from you, which reduces the transmission and spread of the virus. In addition, the moving staff work efficiently so that you are quickly and safely in your new home. Last but not least, a move in itself means enough stress-packing in advance, the administrative work, the actual move and the re-organisation in the new home. Corona is another stress factor that can lead to unforeseen problems in the short term. With a professional company you are covered in any case.
Also the cleaning of your old apartment by a professional company offers many advantages. The cleaning companies have the necessary cleaning supplies, which are needed for a basic cleaning, which saves you an additional trip to a shop. The acceptance guarantee means that you do not have to worry about the basic cleaning, because the cleaning companies guarantee a spotless handover. So you can concentrate fully on your new home after moving.
What does that mean?
A move during the Corona crisis is therefore possible. With a professional moving and cleaning company you are sure that your move is "Corona-compliant". On our moving platform MoveAgain you can easily find a trustworthy partner in your region online. With our expertise and the information you provide when booking your old and new apartment, the size of your household and the number of pieces of furniture, you can avoid time-consuming visits to the apartment before the move. Your move and cleaning are thus booked in a few minutes and you can fully dedicate yourself to moving and furnishing your new home.
How useful was this post?
Click on a star to rate it!
Average rating / 5. Vote count: