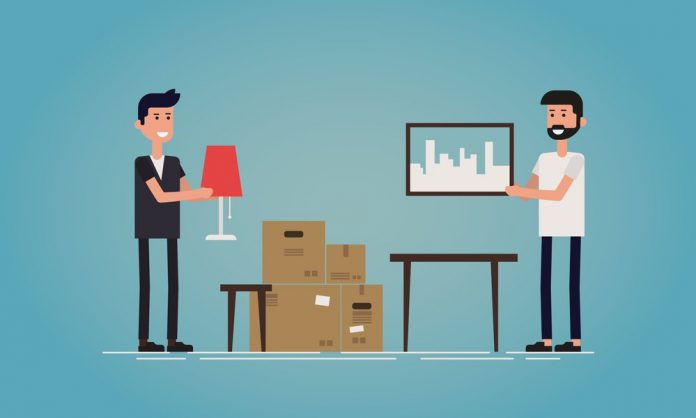 When it comes to moving, it never hurts to have some help as moving your belongings can be very difficult to do alone. That is of course unless you're a minimalist without any furniture!
If you're against the thought of hiring a professional moving company, you'll normally find yourself relying on the generosity of your friends and family – who can be very hard to organise! Choosing dates and times while organising the logistics can feel impossible when everyone is working to their own schedules.
If you can't organise your friends and family, or don't know anyone local to help out, you could 'borrow' someone for your move. There are moving helper services that are perfect for people who can't find any of their own volunteers. Find out more about these services and how they work in the following article.
1. What is a moving helper?
Choosing a moving helper is an alternative to using a professional moving company. They are great for people who have a tight moving budget but still want help moving your furniture from house A to house B. Most movers will work for an hourly fee and will help to carry moving boxes and furniture, dismantle and assemble furniture and drive your transport vehicles between houses. You can also request other services (for an extra charge) such as organising, clearing out, and cleaning.
2. Moving company or moving helper? The pros and cons.
A moving helper can provide a range of different services, like cleaning and clearouts, as part of your move. You'll typically pay them on an hourly basis which can often work out cheaper than hiring a professional moving company.
However, in many cases moving helpers are not specially trained for supporting the moving process like the employees of a professional moving company are. They also may not have the same amount or range of experience as the professionals. So although you may be getting cheaper help, you may have to allow more time for your furniture to be transported to your new home. You may also have take care of organising the moving van yourself, this is not always provided by moving helpers.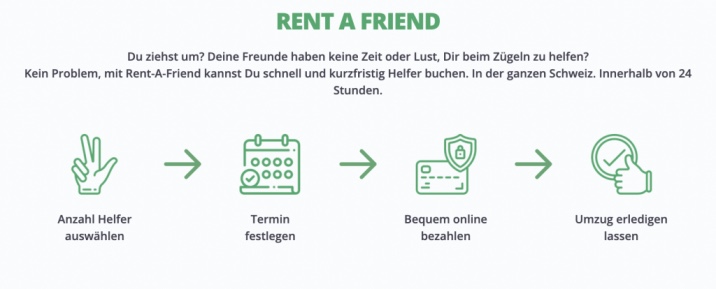 3. Find movers to move. How can I book a mover?
If you need help moving, you can book a moving helper directly through the MoveAgain platform in partnership with RENT-A-FRIEND. Using our online booking form you just let us know your desired moving date, the estimated duration and what activities you need help with (carrying boxes, moving heavy boxes, assembling and disassembling furniture, or driving the moving vehicle).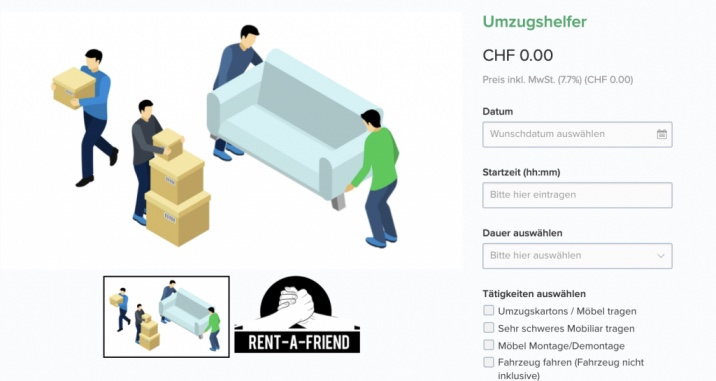 4. How much does a mover cost me? What services are included?
Moving helpers usually bill by the hour, typically you can expect to pay around CHF 150 an hour for one helper, or CHF 290 for two helpers. This price is all-inclusive, so you don't have to worry about any additional prices getting added on after.
The moving helper will also be liable for any damage that they cause to your items intentionally or negligently. This doesn't cover any damage to third party items (like your moving vehicle). If you're concerned about this, you can take out additional liability insurance
5. How many movers do I need for my moving day?
The number of moving helpers you need will greatly depend on various factors: How many heavy objects do you need to move What floor you live on and whether there's lift access How fast do you need your items moved How many drivers are required
You should plan for at least two movers if you need to carry heavy objects, especially if you're not able to physically help yourself. If you're asking for additional services like assembly/disassembly, you should also ask for additional helpers. For most moves, 2–5 helpers are enough.
6. Can I also hire moving helpers for smaller jobs?
Of course! At RENT-A-FRIEND, they call it a 'short-term assignment' which covers any kind of help that can be given in less than an hour. If you only need brief help to carry a heavy item or disassemble your furniture, booking a short assignment is a good idea.