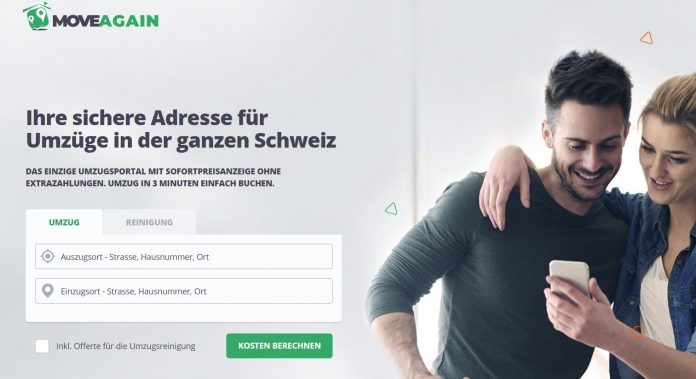 – How much does it cost to move?
– How much does a moving company charge?
– How much does the privately organized move cost?
– What are the fixed costs?
– 5 tips for saving money when moving home
– Calculate moving costs
– 6 steps to calculate moving costs with MoveAgain
How much does it cost to move?
Every move is associated with costs – whether carried out privately or by a selected moving company. Decision making process often depends on personal preferences, personal resilience and transport volume. What many overlooks: Hiring moving company will definitely cost you money but it will save you from all the hassle and strains associated with move.
How much does a moving company charge?
When searching for offers and prices, you should also pay attention to the services included. Following things could influence your final price:
– Distance between old and new home
– Transport volume
– Floor old/new apartment (with or without lift)
– Dismantling time and assembly time (for furniture such as cupboards)
– Special services (e.g. installations)
– Move out cleaning
Relocation costs can fluctuate widely and range from CHF 500 to CHF 2000. If you want to find a trustworthy moving company, you should draw up a moving plan and give the company as clear information as possible. Precise information makes it easier for the moving company to quote a fixed price. You can find out more about Swiss moving companies here.
How much does the privately organized move cost?
Do you want to move yourself? Young people, in particular, still like to organise their move privately. Friends and relatives are often engaged as moving helpers. Limited number of belongings make it easier to decide whether or not to organise move without a moving company. When moving out of the parents' house, the student residence or a shared flat, the volume to be transported is usually limited to a few moving boxes. Either the most spacious car from your circle of friends can be borrowed as a moving wagon or a small transporter can be hired. After adding up all the costs for vehicle rental, fuel, moving materials and meals, however, even a self-organised move can easily cost several hundred francs.
What are the fixed costs?
Deposit
The deposit or rental deposit in Switzerland may not exceed three months' interest (with a flat rate for incidental expenses). The deposit must be made into a rent deposit account. Since the deposit has not yet been paid out at the time of the conclusion of the new rental agreement, reinsurers should bear in mind the temporary financial burden of the rental deposit.
Commission
The commission or brokerage fee for a first letting is usually 1.5 times the monthly rent. In the case of a re-letting, the amount is halved. The ordering principle applies: Whoever commissions the real estate agent also pays him. Depending on the housing market situation arising from the region and vacancies, this can be the landlord or the tenant.
Renovation costs / move out cleaning
Which renovation work is to be carried out and to what extent is stated in the tenancy agreement. Before the tenant sets to work or hire a contractor, the validity of the relevant clauses should be checked. Apart from the costs for the renovation there are also the expenditures for the move out cleaning.
Moving
A move within Switzerland involves registration with the residents' registration office. Nowadays, many administrative procedures can be carried out online. The responsible residents' registration office informs the reinsurer about the procedure and the fees associated with the re-registration.
Buying new furniture
Furniture that is worn out and damaged does not make a good impression in a new apartment. A move is often accompanied by buying brand new pieces of furniture. Some of your old furniture might not fit into the new home because of their dimensions. A budget should be set up well in advance for the purchase of new furniture and appliances.
Costs related to the moving day
Even with the best planning everything does not always run smoothly. Sometimes it's just small things like missing packing tape or the right tool that stops the whole move. Especially if you are moving on your own, you should put money aside for spontaneous errands on the day of the move.
5 tips for saving money when moving home
A ten-year-old washing machine may still do a good job, but for the move, the heavy large appliance has to be disconnected, sealed and professionally connected to the new location. The old equipment can also be affected by the transport. In addition: New washing machines are more energy efficient. The move is therefore a good opportunity to replace old appliances.
No flat is perfect: If you furnish your new home step by step, you can prolong the cost of the move over a longer period of time.
Do you have things which were not used in the past year? Experience shows that anyone who sells or disposes of such things before the move will hardly miss them.
Take advantage of the off-peak times for moving to negotiate favourable conditions. In spring and summer, moving companies are busier than in autumn and winter.
Many moving companies advertise with additional services such as the connection of large equipment or the move out cleaning of the old apartment. Compare the prices with other providers on the market and ask the moving company specifically.
Calculate moving costs
The decisive factor for the moving costs is usually the transport volume. However, most people underestimate the amount that has accumulated over the years. For a 50 square metre apartment inhabited by one person, 23 cubic metres is a realistic approach. In an apartment occupied by two people with 70 square metres, about 36 cubic metres have to be moved during the move. For a 100 square metre apartment of a family with two children, it is assumed to be 50 to 55 cubic metres. The moving costs can be calculated in advance using a moving cost calculator, as offered on some moving portals.
6 steps to calculate moving costs with MoveAgain
With MoveAgain you know exact price for your move before it even takes place and save a lot of money in the end. With these 6 easy steps you can calculate your moving costs online.
Step 1: Select Start and Destination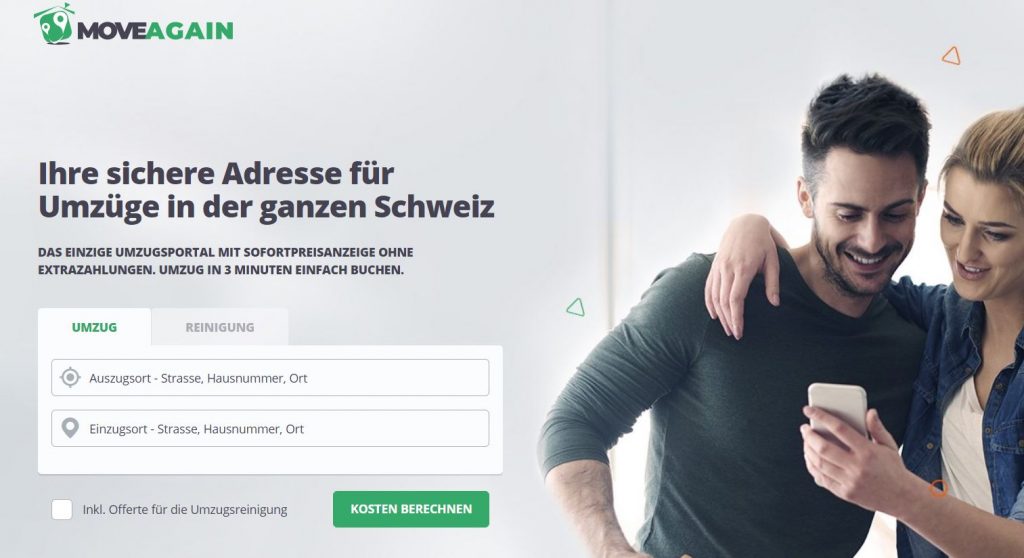 Before we want to know more about your inventory, you can first tell us where you are moving to. You can enter your current and new address in the moving calculator.
Step 2: Enter your personal details and date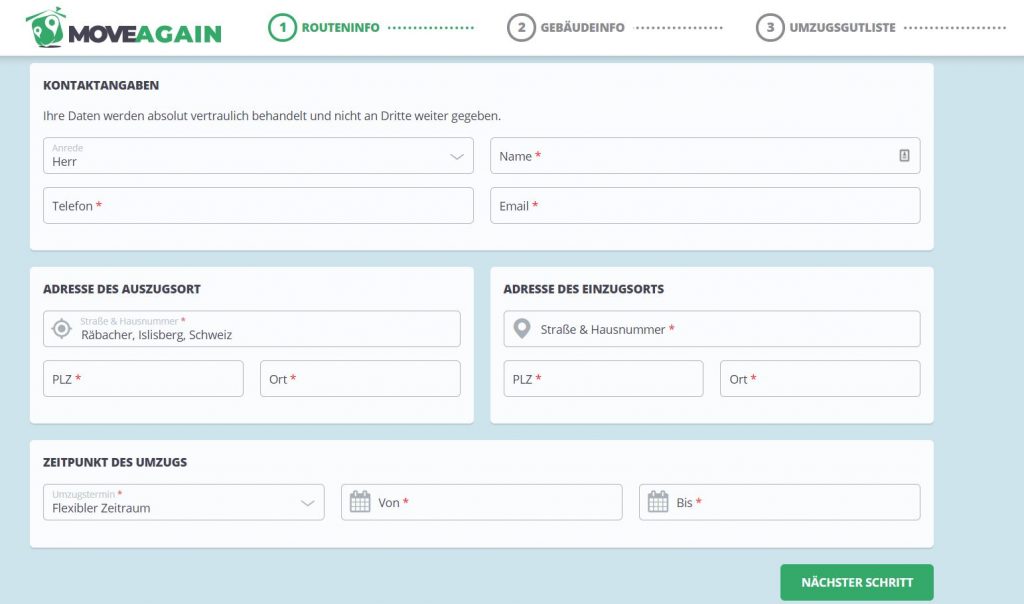 Now we need your personal details and the dates on which we can perform the move for you. If you missed to fill in some fields from the previous step, they should also be completed.
Step 3: Information about your belongings
In order for the moving calculator to be able to give an accurate estimate of your moving costs, you must provide information about your new and old apartment. If we transport valuable or very heavy items, we ask you to provide further information in the comment function.
Step 4: Select additional services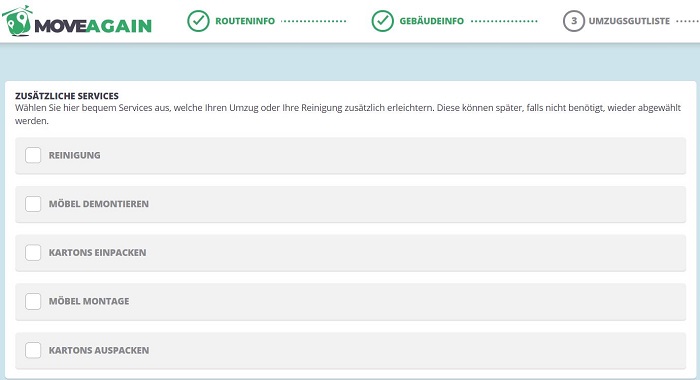 In addition to the mere transport, we are also happy to take on other tasks for you. In the 4th step you can choose additional services to make your move easier.
Step 5: Fill in the relocation list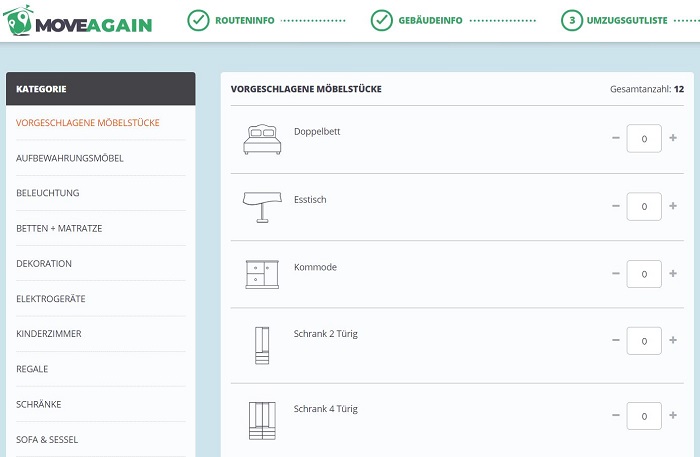 Finally, you will create a moving list with all the pieces of furniture you want to move. The inventory should be as accurate as possible so that we can calculate your moving costs and give you the best price!
Step 6: Accept the offer & get started!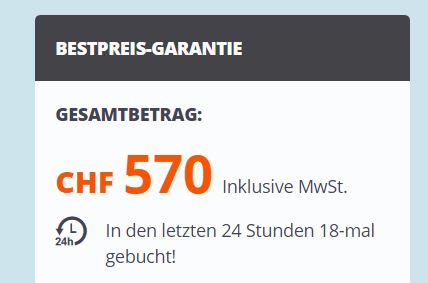 Now your moving costs will be calculated, and you will receive a binding offer that you only have to accept. If you have any questions, our service staff will be happy to help you by phone or e-mail!
Would you like to try it out for yourself?